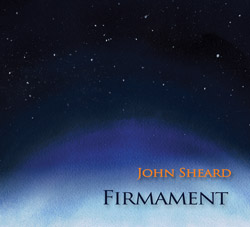 Firmament
---
14 Piano Solos
Performed by John Sheard
A little something for everyone; from Bacharach to seasonal fare to the Theme from Vinyl Cafe, plus 9 original compositions by John Sheard.
CDs and digital downloads at Zunior.com
or at MapleMusic.com
Track Listing
1. Loch Lomond 5:03 trad sample
2. El Condor Pasa 4:07 Robles sample
3. Firmament 4:38 Sheard
4. White Thorn 4:46 Sheard sample
5. La Pintora (para Lupe) 4:10 Sheard
6. Vinyl Cafe Theme
and 10 Variations 4:30 Sheard
7. Lonesome Cossack 4:25 Sheard sample
8. Trains and Boats and Planes 5:16 Bacharach/David sample
9. Mourning Maid 3:24 Sheard
10. Playful Sleighful 5:20 Sheard
11. La Rêve 2:55 Sheard
12. O Come Emmanuel
/ See Amid the Winter's Snow 4:57 trad sample
13. The Navy Hymn 4:17 Dykes
14. Dance of the Saint 6:06 Sheard sample
total running time 64:30
Produced and performed by John Sheard.
Voices on 'The Navy Hymn' and 'Trains and Boats and Planes': Cherie Camp and Michelle Willis.
Engineered by Bernie Cisternas at Number 9 Audio and Jeremy Darby at Canterbury Music Co. Mixed by Stu Young at Loudmouth Studios. Mastered by Nick Rawson. Edited by Ryan Granville-Martin.
Cover watercolour and CD layout: Baye Hunter.
Vinyl Cafe Theme Variations
The 10 variations on the Vinyl Cafe theme 'Happy Meeting in Glory' (trad) are: 1. Klondike 2. Russian 3. Blues 4. Mozart 5. Latin 6. Miles Davis 7. Jerry Lee Lewis 8. Frank Mills 9. Canadian Cowboy 10. Ragtime.
I liked the 'Russian' variation so much that I let it evolve into something grander. I named the creation 'Lonesome Cossack'.
Special thanks to:
Baye for her lovely painting and patience.
George Rondina and Neal Ramakrishnan at Number 9 for piano fussing. Stuart McLean for the stage to lean on. Michele Harney - my best audience of one.
This recording is dedicated to the memory of John McKane Lowrey 1951-2010 - Irish singer, guitarist, punster, bon vivant and my very good friend for thirty years.